In order that in the house it is constant to carry out cleaning, to wash the dishes, plumbing fixtures, it is very important to protect hands from negative impact of detergents and also waters. Because of their continuous influence hands can be not only rough, but also on skin there are wounds formed from aggressive household chemicals. The most widespread option for the house is economic rubber gloves, can also use latex materials. Each option has advantages and negative qualities. Let's consider how it is correct to choose modern gloves for cleaning and to wash ware, advantages and shortcomings of latex.
Latex gloves for life
Latex gloves are an optimal variant for those who wish to receive convenience during damp cleaning. It is the best of all not to use them for washing of ware and plumbing fixtures as material badly reacts to household chemicals and aggressive detergents. Will be suitable for hyper sensibility of hands. Pay attention that the main advantage of natural latex is their durability and an opportunity to practical extension. For this reason, they very seldom seek. But, anyway, latex is a thin material therefore to pierce it enough it. It is not recommended to apply to washing of ware, plumbing fixtures and a tile.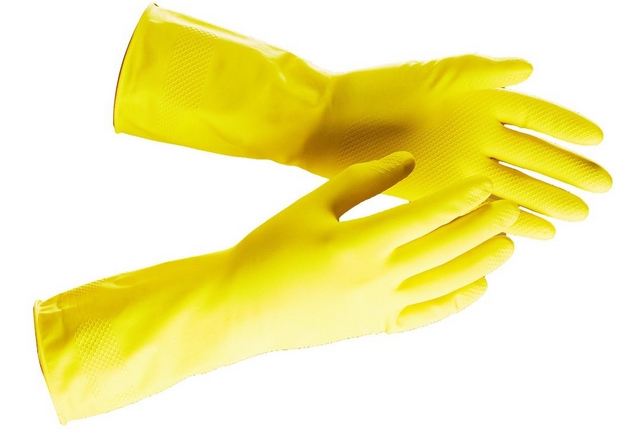 Rubber gloves and their features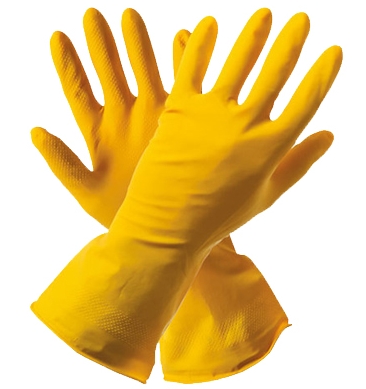 In life it is the best of all to use rubber gloves as they are much more practical and maintain influence of various household chemicals. Pay attention that rubber economic gloves can be different. Everything depends on production material. Are most often applied: neoprene, nitrile, polyvinyl chloride. If you wish to receive the maximum protection against negative impacts, then the glove on the basis of rubber is the best of all to use (natural), addition of a neoprene is also possible. Experts and producers claim that such rubber gloves are capable to resist even to the most serious influences from outside. They can be used repeatedly or every once in a while.
But quite thick and the covering which demands cleaning is very difficult to feel such gloves. If you need thinner gloves to increase tactile feelings, then it is the best of all to pick up products on the basis of a nitrile. Material thin, easy, but perfectly protects even from the most aggressive substances. But at the same time at the expense of the subtlety they quickly enough seek.