Mittens and gloves – one of the most important accessories for snowboarding. They warm and protect your hands. The choice of suitable couple can seem a simple task, but incorrectly picked up gloves or mittens can impair a little to both – snowboarding and mood.
This article will be useful to newbie snowboard riders, you will learn about materials of which make gloves/mittens, and some moments which, which it is important to consider before making purchase.
GLOVES AGAINST MITTENS
That you will prefer: universality of gloves or heat of mittens? It is possible to find in a line of models of different producers model of both mittens, and gloves of an identical design and made of the same materials. Mittens, as a rule, warmer because your fingers are together, but are not divided, as in a signet. But mittens limit mobility at some movements and them, most likely, it is necessary to remove if you need to get into a pocket, to answer the phone call or to adjust a thong on a mask (frankly speaking, in gloves to make it not too conveniently). Manual models hybrids – something between a mitten and a glove meet 3rd, say that too convenient option. But all the same, this matter of taste and the choice for you!
The same as clothes for snowboarding, gloves and mittens consist of components which protect your hands from snow and wind, do not allow to freeze and allow to remain dry. In gloves and mittens also, as well as in clothes are used: membrane fabric, heater and lining.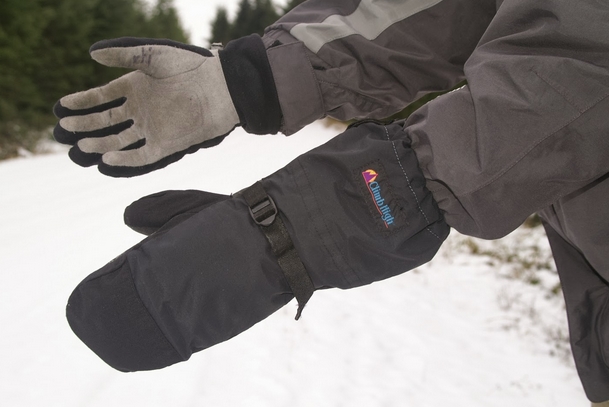 MATERIALS
Synthetics
The majority of mittens and gloves for a snowboard and skis are made of synthetic fabric, for example, of nylon. In qualitative models the waterproof breathing fabric and a membrane or a covering from ePTFE (it is Teflon) or PU (polyurethane) is used.
Leather
Genuine leather is the material checked by time for production of gloves and mittens. Leather stronger and flexible, than nylon materials, and thanks to a combination the processed wax or pitch of leather and a microporous membrane, leather gloves can be waterproof, not blown and warm. At the correct leaving with use of special means such models will serve you long and reliably.
WARMLY
Mittens and gloves differ on heat degree. It is important to find couple which will correspond to your personal needs and weather conditions in which you plan to ride.
If you do not ride in a hard frost, you will suit not too warm models but at the same time equipped with a good membrane that the glove/mitten was not blotted and at the same time removed excess moisture outside.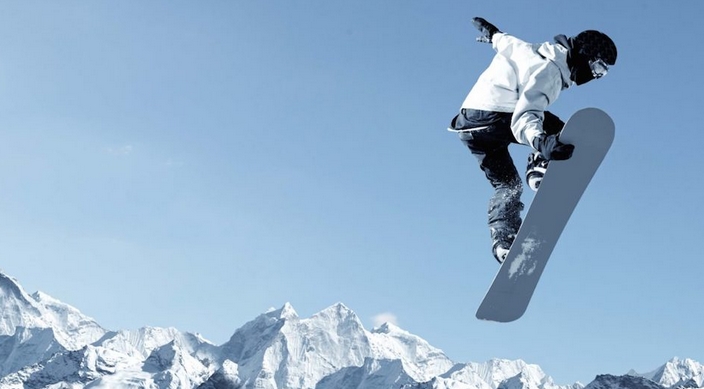 Heaters
It is important that your gloves or mittens were supplied with heater which will keep heat and will not allow hands to freeze. Perhaps, it is required to you several gloves/mittens of couples, different in warmth, on different weather. Heater should not be too volume not to limit mobility of fingers and all hand. Here some types of heaters:
The best natural heater which perfectly will be suitable for very cold conditions or moderate activity. But all advantages of down decrease at a damp state, and still it can slowly dry that is fat minus for use of down as heater for gloves or mittens.
Primaloft
Primaloft heater uses the patented synthetic insulating material from microfiber which helps to keep heat. It is the good option of heater suitable for use in damp conditions.
Thinsulate
Made of ultra-thin microfibers, Thinsulate heater provides excellent properties of heater at preservation of smaller volume that makes them ideal for use in gloves and mittens where the mobility is important.
Besides heater, in gloves/mittens the membrane as dry gloves = warm gloves and to remain dry, membrane fabric has to "breathe" is also important.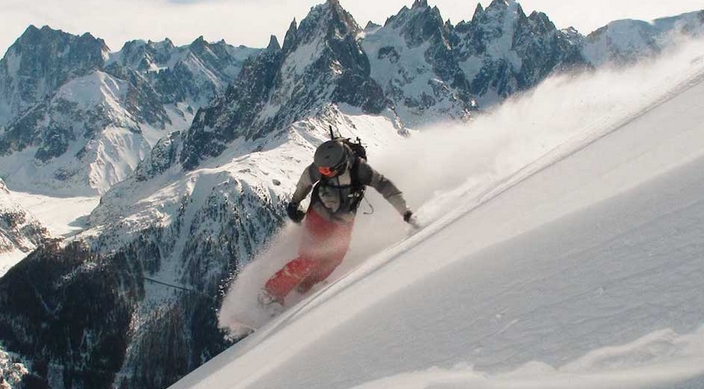 Membrane
Moist hands quickly freeze. In the correct models of gloves/mittens, also as well as in jackets or trousers for snowboarding between external fabric and heater there is a membrane. Membrane fabric has too small microscopic time through which water does not get inside, but sufficient to miss outside evaporation. The water tightness and the breathing properties depend first of all on quality of a membrane. Many producers use reliable membrane fabrics, such as GORE-TEX and Hipora.
Lining
The lining is the additional layer of material which is built in gloves and mittens to create comfortable feelings and to make them even more warmly and more comfortably. For a lining different options of materials, for example, fleece is used.
The lining is sewed in a glove/mitten or can be a separate removable insole which is easily possible to pull out to wash or dry after.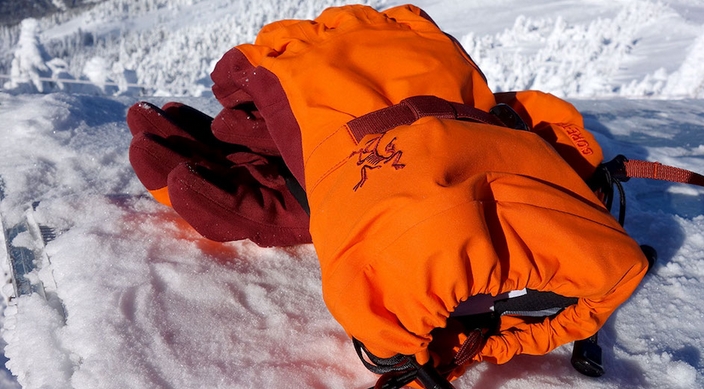 Palm
Many gloves and mittens have the strengthened elements located on sites of a palm and fingers that you did not cut a glove/mitten palm with an edging of a board or skis and did not damage it in a different way.
To use the mobile phone without taking off gloves/mittens, on fingers materials which allow to answer a call are used, to write the message or to make a post in Instagram.
Cuffs: short and long
Cuffs of gloves/mittens can be both long, and short, choose that it is more convenient to you. The main task of cuffs – not to allow hit of snow in your gloves and in a jacket sleeve.
Short cuffs usually come to an end at the basis of your wrist, providing big mobility and an opportunity for a cuff of a jacket to block your gloves.
Longer cuffs are over a sleeve of your jacket and provide big protection against snow.
ADDITIONAL FEATURES
Additional functions which add comfort and convenience meet at gloves/mittens:
Some gloves have previously bent fingers that allows you easier to be enough any objects.
Pockets on a lightning which can be used for to remove there skipass to place in them the special warming elements or to use them as ventilation in warm weather.
Lish – a loop which it is put on a wrist that you did not lose your gloves / mittens if you took off them for a while. As in kindergarten, approximately.
Thong on a Velcro or a clasp which fixes a glove/mitten on your wrist.
Soft insert on a thumb to wipe a nose or accurately to shovel away snow from a mask.
Rubber scraper to wipe a mask which sometimes happens on a thumb.
SIZE AND LANDING
It is important that gloves or mittens suited you by the size. Producers use different digital and alphabetic systems for a dimensional grid of gloves / mittens. It is usually necessary to measure a circle around the widest part of a hand in inches or centimeters and to find in the table on the website or in the catalog the size necessary to you. Or to try on several models precisely to decide on the size.