Winters require a lot of effort, especially if your job demands outdoor work. You need to protect yourself from the harsh cold and falling temperatures every day. For that, what you wear should be appropriate, and one important part of your winter clothes are winter work gloves.
Using gloves in winters is not just enough. It has to be the right gloves with top quality built, proper winter fabric, and accurate size at a suitable price. Keeping all the significant features in view will help you with free movements and no joint pain during winters. If your hands go numb and stop moving, it can result in different cold-related problems such as frostbite and severe conditions, hypothermia.
Finding the top best winter cold work gloves? Read on!
Prepare for work in cold weather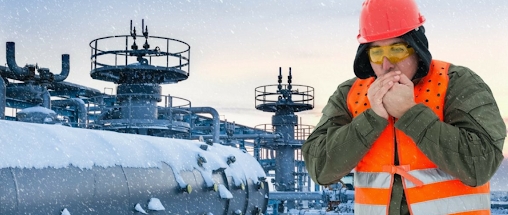 While we prepared for work in cold weather, we kept in view the following important elements. And so, we recommend you to do the same.
Choosing the right material
To go for high-end insulation, the first step is to choose the right material. Following materials make the best choices for winter work gloves:
Fleece. Fleece is the best fabric for winters as it is lightest in weight yet one of the warmest. If the temperature in your area doesn't fall to the extreme, fleece can be the best go-to.
Lamb wool. Lamb wool is one great synthetic material that is appropriate for the tough and heavy outdoor jobs.
Foam Insulation. Used interchangeably with cotton, foam insulation is a good choice when it is not too cold for hands to freeze.
Thinsulate. This 3M insulate gloves come with breathable and moisture-resistant material for comfortable work.
Leather. When the temperature is falling to an unbearable extent, leather materials are the only choice to keep your hands moving.
Picking the right fit
To allow movement with maximum comfort, picking up the gloves that pick right is important. Only then, your hands will get warm quickly.
Considering enough dexterity
Dexterity depends upon the type of work you need your gloves for. From light-duty jobs to heavy-demanding jobs, dexterity varies from one winter gloves to another.
Top 5 Winter Work Gloves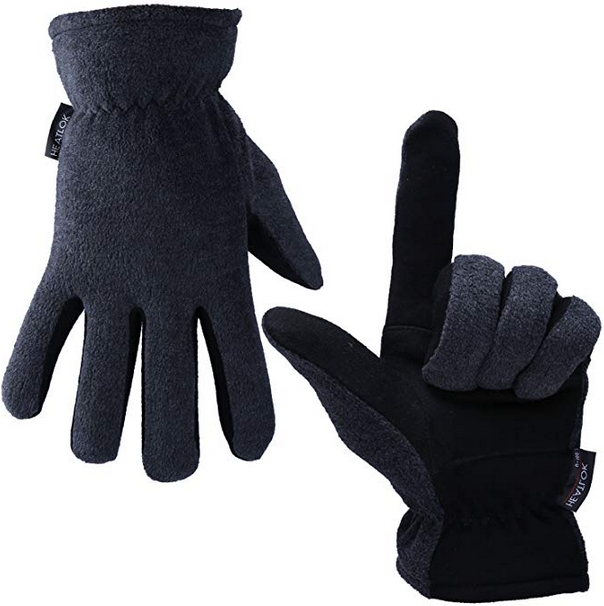 Ozero Leather and Fleece Work Gloves make to the top choice in our winter cold work gloves list. Also, these are Amazon's Choice warmest women gloves. We are surprised to have found the best material combo any winter glove would have.
Features
Ozero Leather and Fleece Work Gloves feature good fit and size that makes it suitable for women, mostly. However, the unisex built and design allows both men and women to use these gloves.
Coming with thermal polar fleece and deerskin suede leather, these are the warmest winter gloves. This material combination will give off super warmth and comfort to your hands these winters. The thermal polar fleece ensures high-end insulation credited to its insulated cotton lining and suede leather grants softness and durability.
What makes Ozero Leather and Fleece Work Gloves unique is Heatlok technology. Under this high-tech patented system, these winter gloves feature hollow fibers and microfibers that offer maximum warmth and just right dexterity. With this tech, these gloves are capable of locking the warm air within and maintaining a barrier to the cold. This makes these gloves good enough for temperature as low as -20 degrees Fahrenheit (-29C).
We love the great material combo with this high-end tech feature, and we are sure you are going to admire these gloves every time you get ready for work. As it comes to fit, these gloves are available in different sizes to help you choose the right one for your hands.
Moreover, know that these gloves come with elastic wrist cuff to keep your wrists warm and protected from cold. Overall, Ozero Leather and Fleece Work Gloves are premium winter work gloves coming at affordable prices.
Pros
Thermal polar fleece and deerskin suede leather construction
Unisex
Heatlok thermal tech
Elastic wrist cuff
Cons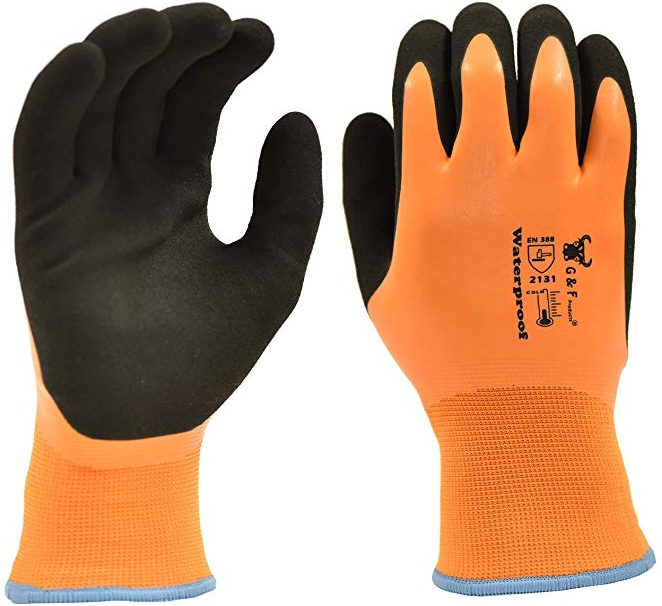 G & F Products Waterproof Winter Gloves are the best gloves for extreme low-temperature range in coldest areas around the world. So if you live in one, make sure you consider these warmest winter gloves.
Features
G & F Products Waterproof Winter Gloves feature 100% acrylic terry and 100% nylon built. This is another superb combination to keep your hands warm and workable in low temperatures. These gloves are known to go well in temperature as low as -58F. These are the perfect snow gloves if you want to shovel the snow off or work outdoors while it's snowing.
Made for the freezing cold, these winter gloves are waterproof. This makes sure the water from snow doesn't get in your hands and affects the performance of these gloves. By retaining the warmth and minimizing moisture, these gloves are a top choice for snow or rainy weather in winters.
G & F Products Waterproof Winter Gloves are not only waterproof but windproof as well, thanks to the double coating technology it comes with. The first coating features HPT technology that adds maximum dexterity and warmth. With the second microfoam coating, these gloves allow you to work even in -58F. What else do you need to combat these harsh winters?
Also, these gloves have a unisex design, so both men and women can put these own quite comfortably. Whether you need to drive a car, shovel the snow, or do some forestry work, these gloves offer optimum protection from cold.
As these gloves are super functional in addition to being waterproof and made of nylon, we are surprised how the manufacturer has incorporated such versatility.
For further satisfaction, know that G & F Products Waterproof Winter Gloves meet ANSI Industrial Standards. This adds a lot to the credibility of these gloves. Overall, choose G & F Products Waterproof Winter Gloves for extra comfort and warm hands.
Pros
Suitable for even -58F
Double coating technology
Unisex design
Meet ANSI standards
Cons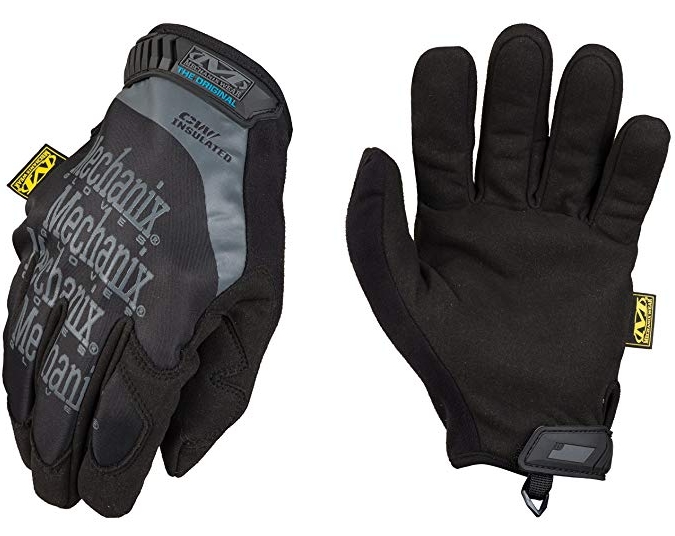 Mechanix Wear Winter Work Gloves are another topnotch work gloves for the cold season. As chilly winds start flowing and the snow starts falling, best is to resort to high-quality winter work gloves.
Features
Mechanix Wear Winter Work Gloves are made of 3M Thinsulate material on the outside and micro-fleece lining on the inside. 3M Thinsulate traps the air in your gloves and keeps it warm. The fleece lining further adds to the super performance and cold protection of these gloves.
Featuring outer SoftShell technology, these gloves are known to break all the effects of wind and resists cold air to a great extent. With no room to sneak in, cold air remains as far as possible from your hands. This helps a lot when you are dealing with the toughest of work requirements. Also, these gloves are good enough when you need to do outdoor house jobs such as shoveling snow.
Mechanix Wear Winter Work Gloves come with great gripping power. You will be in awe of its synthetic leather material on the palm. It offers durable gripping, no matter what size of the product. Also, it is highly abrasion-resistant.
Another unique feature of these gloves is the touch capability of this offer. These gloves incorporate carbon-infused conductive material to allow ease of use and touch on any of your devices. This means you can easily listen to phone calls or respond to texts while you work wearing these gloves.
Overall, Mechanix Wear Winter Work Gloves offer a secure fit and convenient wear to trap warm air in a while, allowing maximum functionality and usability.
Pros
3M Thinsulate and fleece material
Touch screen compatibility
Strong grip
SoftShell wind resistant technology
Cons
Not completely waterproof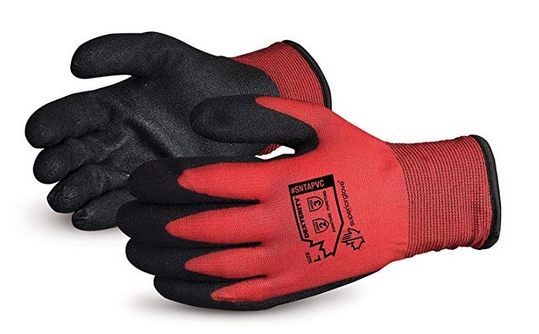 Superior Winter Work Gloves for Cold Temperatures are the best gloves to wear to work in this chilly winter season. With its superb performance and accurate fit, you can keep your hands safe from cold.
Features
Superior Winter Work Gloves feature two-fold construction with two different and warmest materials of all times. These are the best-insulated winter work gloves coming with two layers of fabric. While 15-gauge nylon resists wind and water on the outside, fleece lining keeps your hand dry and warm on the inside.
Even in below-freezing temperatures, say as low as -58F, these gloves are great to work outdoors, in cold storage, agricultural lands, or skiing. These gloves offer the ultimate versatility you have been looking for.
Furthermore, Superior Winter Work Gloves come with superior grip for both men and women. Interestingly, they have a crinkle-grip coating that allows you to handle anything with great ease. This special formula helps your hands stay flexible and comfortable.
These gloves are light in weight and are made to dry super quick. This enables you to tackle all the wet and dry conditions quite easily. Meeting ANSI standards, these gloves are puncture-resistant as well as abrasion-resistant, keeping your hands protected.
In addition to this, Superior Winter Work Gloves come in a wide size range to choose from, all at the same price, however. The unisex design allows both men and women to make the most out of these warm, comfortable, and flexible gloves.
Overall, coming at an affordable price, Superior Winter Work Gloves make a good choice if you want to work outdoors in extremely low temperatures.
Pros
Twofold construction
Meets ANSI standards
Unisex design
Affordable
Cons
Not waterproof but water-resistant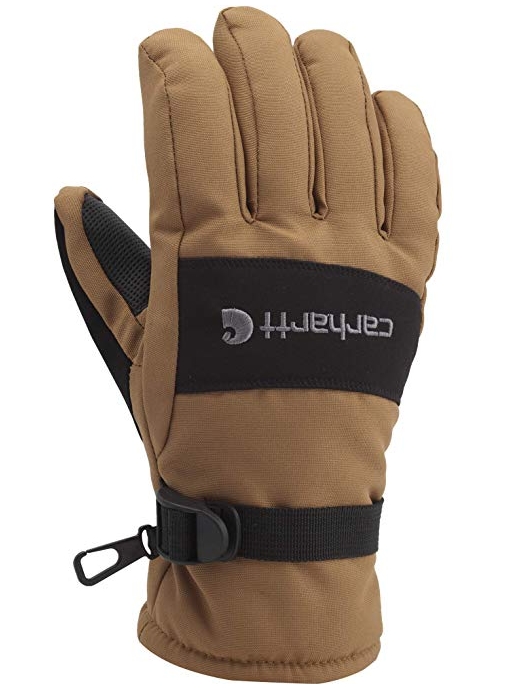 Carhartt is a big name when it comes to gloves manufacturers. We are happy to have a solid piece of gloves from the house of Carhartt in our list.
Features
Carhartt Waterproof Insulated Gloves stand atop when it comes to strong and warm built. With the shell and lining made of 100% polyester and palm made of 100% polyurethane, these gloves are known to be the warmest and softest at the same time.
With waterproof capability and FastDry technology, you can even immerse your hand in water if your job requires so. Your hands will still remain dry and warm. Also, it keeps sweat away to keep your hands comfortable.
Coming in five different sizes, you can choose the one that offers a perfect fit. This keeps your hands protected from cold as well as moisture. However, know that the price varies with the size, unlike Superior Winter Work Gloves. The cuffs feature stretch fleece grip to keep the gloves tight and your wrists warm.
Moreover, Carhartt Waterproof Insulated Gloves offer reinforced digital grip to keep your hands super productive. With C-grip and Nitrile grip, you can even work with wet and slippery surfaces such as oil. These gloves ensure you need not compromise on dexterity.
However, these gloves do not feature unisex design and make good winter work gloves for men only.
Overall, Carhartt Waterproof Insulated Gloves are the best option for men who are looking for super-insulated gloves that offer complete water resistance, flexibility, and excellent grip.
Pros
Warm built
FastDry tech
C-grip and Nitrile grip
Different sizes available
Cons
Varying price range
Designed for men only
Final Thoughts
Best winter cold work gloves come with utmost protection, warmth, and comfort, provided you pick the right gloves as per your needs. After reviewing the top 5 winter work gloves and looking into different features that make the right gloves for your winter needs, we managed to agree on a single definition of best winter cold work gloves i.e.
The gloves that stand true to your weather needs and allow maximum functionality are the best winter work gloves.
As weather varies from place to place, and demand for functionality depends on the type of job you need to perform, a large part of choosing the best winter gloves remains with the individuals. So, all you need to do is go through our above reviews carefully to come up with the most suitable winter work gloves.
Happy productive winters!