Dishwashing means using cleaning detergents to wash off the dishes. No matter how advanced or modern dishwasher you have in your home, somewhere and somehow, you definitely need to get in touch with the cleaning detergents. For people, mostly women, who wash dishes in the sink and not the dishwasher, dishwashing gloves have come forward as a necessity.
Different kinds of bacteria in our hands, such as Staphylococcus and Streptococcus, can be harmful to our skin. This renders it important to keep your hands protected, especially when you have to wash dishes on a daily basis or several times a day.
Since the introduction of a very first rubber glove in 1894 by William Stewart for medical purposes, its need has been realized. And so, the market expanded from medical gloves to kitchen gloves, especially the ones used for dishwashing.
Top Materials to Choose
Dishwashing gloves come in different materials. Most of the times, every sort of gloves seem to be the same and they look the same. This is especially true when you are going to buy such gloves for washing and cleaning purposes for the very first time or you are looking for replacement  for old pair.
As a beginner, you need to know what different kinds of materials are dishwashing gloves made from. And as one who already wears dishwashing gloves, it is important to make yourself aware of the differences between different materials.
The following guide takes you through different material used to make dishwashing gloves:
Latex
The most common type of dishwashing gloves available out there are latex gloves. Coming from the rubber trees, latex is one standard product used in the manufacturing. Regardless of the acids, alcohol, bases, or any other diluted chemicals present in the dishwashing detergent, latex gloves are pretty good choice.
Latex gloves offer exceptional protection from cuts and bruises. The only liquid with which latex gloves are not recommended to use is oil products.
When it comes to the features of latex gloves, these are highly elastic and long-lasting. Also, these are biodegradable. The best thing about latex gloves is that these are very budget-friendly.
However, one thing you need to keep in mind regarding latex gloves is that some people are allergic to latex. If you observe any reactions on your hands, stop the use of these gloves immediately. If the situation worsens, consult a physician as soon as possible.
As a substitute for latex gloves, nitrile or vinyl gloves make a great option.
Nitrile
Nitrile gloves are totally latex-free as nitrile is a synthetic rubber copolymer composed of acrylonitrile and butadiene. These are highly effective when it comes to resistance towards oil and other such substances.
Another thing that puts nitrile gloves at a higher-end than latex is that it is resistant to puncture. Nitrile gloves are great at protecting your hands from any kind of liquid, be it oil or a reactive dishwasher. As you wear nitrile gloves, you need not worry about any cuts or bruises.
While lighter nitrile gloves are used for medical purposes such as laboratory use, the heavier nitrile gloves work well in food processing, cleaning, and manufacturing industries. Moreover, these are greatly durable, and you need not buy them anytime soon once you buy a pair.
The only thing you need to be aware of regarding nitrile gloves is their use with ketones and some organic solvents. It might be reactive for some people.
Vinyl
Like that of nitrile gloves, vinyl gloves also come made of a synthetic polymer material – polyvinyl chloride. Usually known as PVC, this polymer works best for protection against liquids when desired. These gloves are used for a maximum of 2 to 3 times. Also, they are cheaper than latex and nitrile gloves.
Vinyl gloves are the ideal solution, especially when dealing with non-hazardous materials. Also, these are latex-free and are not known to cause any skin problems or allergic reactions.
One thing you need to bear in mind regarding vinyl gloves is that they are not as strong as latex or nitrile. If you keep using a single pair for a long time, these become prone to leakage.
Top 6 Gloves for Dishwashing
With a wide variety of dishwashing gloves available in the market, it might be difficult to choose one that works best for you. Even though it costs $10 at maximum, you can save that by reading through our top 6 gloves reviews:

1. Elgood Reusable Dishwashing Gloves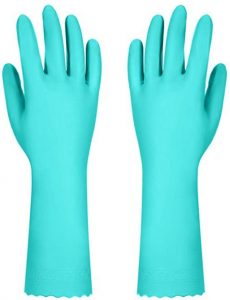 Made of cotton and PVC, Elgood dishwashing gloves are quite durable and eco-friendly in regards to the cost. These are latex-free and BPA free as well as Phthalate free. These gloves are known for their chemical resistance and anti-aging properties, making them one of the best picks on our list.
These come in medium sizes and 13 inches length. This length is good enough to cover your arms as well, preventing any sort of hot water or chemical damage.
Advanced Flocking Technology is used in making these gloves. What makes it unique is the seamless weaving of cotton and PVC. This does not only make these gloves super comfortable and easy to wear but provides great protection from hot water.
The granules designed in palms and fingers result in increased friction, which ensures that the gloves do not slip while washing dishes. Also, these gloves are oil-resistant and water-proof. This makes them the ideal option for kitchen cleaning and doing dishes after dinner.
Pros
Budget-friendly
Great for latex allergic wearers
Do not slip
Protects arms as well
2. Mitaloo Magic Cleaning Sponge Gloves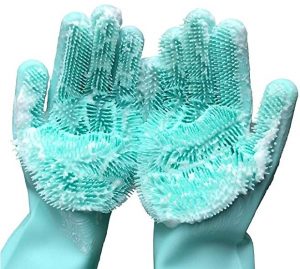 These Magic dishwashing gloves are made of 100% food-grade silicon. This way, these are non-allergic to latex. The silicon sponges present on the palms and fingers of these gloves make these rubber gloves really unique. This offers you a big advantage as you do not have to touch the grimy dishes at all. Wear these gloves on and start washing instantly.
The built material, food-grade silicon, is heat and cold resistant and so can withstand extreme temperatures as low as -40 degrees and as high as 320 degrees F.
These magic gloves offer multiple uses. Apart from dishwashing, you can use these gloves for household cleaning, pet care, and car washing, as well.
Also, these are easier to wear than most of the average choices available on the market. These are highly elastic and durable, as these do not tear easily. Overall, these are safe and efficient dishwashing gloves. We highly recommend considering these if latex, nitrile or vinyl gloves are not your types.
Pros
Non-latex
Durable and safe
Offer multiple uses
Heat and cold resistant
Cons
Silicon sponges are too soft to grime away hard particles on the dishes
3. Tusko Products Nitrile Gloves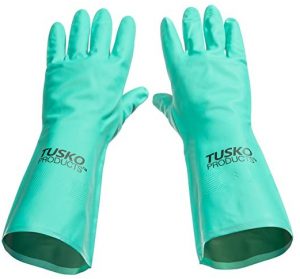 If you are looking for nitrile dishwashing gloves on the list, Tusko Products gloves have successfully made to our list of best dishwashing gloves. This is majorly due to the fact that nitrile built is great for people who are allergic to latex and think vinyl to be too less durable.
These gloves are 15 mils thick to offer maximum durability and high dexterity. Coming with slip-resistant texture, these gloves won't wear off no matter how long you use them. Due to the flock lining present on these gloves, no odor can settle in. It keeps your gloves fresh for good enough time.
When using for household kitchen dishwashing, Tusko Products nitrile gloves come with 90 days guarantee.
Overall, these are great dishwashing gloves as far as fitting, ease of use, and durability are concerned. If you are looking for a more solid option and are not allergic to latex, we recommend going for latex gloves.
Pros
Work great for oily dishes
Best for latex allergic people
High durability and dexterity
Odor resistant
Cons
Might be slippery on glass
Need to be cleaned more often
4. Mr. Clean Bliss Premium Latex-Free Gloves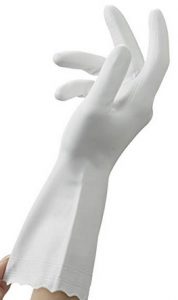 These Bliss Premium Latex-Free Gloves are the next best pick on our list. These are made of top quality latex-free material, Mr. Clean calls as Bliss. This material is highly durable, and so, this single pair is going to work great for months.
The best thing about these gloves is their resistance towards tear. This further adds to their durability. As these gloves are water-proof, you need not worry when washing your dishes with hot water. Neither the water nor the chemicals are going to damage your hands. This makes these gloves a great option for daily household use, as well.
The ultra-plush lining on these gloves makes them pillow-soft. Also, these gloves offer you a pure blissed feeling when washing or cleaning the dishes.
As these gloves come with non-slip design, you need not worry when washing oily dishes, glassware, or any such delicate product. Overall, these gloves are best for people who are allergic to latex. These make a handy substitute!
Pros
Saves you from harsh detergents
Tear-resistant
Waterproof
Non-slip design
Cons
Due to white color, these get dirty really quick
5. AmazonBasics Professional Rubber Gloves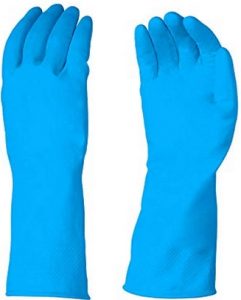 AmazonBasics Professional Rubber Gloves are your ultimate go-to and a must check option. This is specifically due to the excellent features it comes with.
These gloves offer protection from a variety of substances such as hot water, harsh chemicals, dirt, and grime. Besides being waterproof, these rubber gloves are flexible enough, as well. You can use these gloves for multiple purposes, such as scrubbing the floor and any typical household cleaning.
The rubber construction makes these gloves extremely durable. With textured palm and fingertips, it is easy to handle slippery and wet dishes. As it comes in medium and large sizes, you can get one that suits well to your hands.
Due to its tall cuffs, it protects your wrists and arms, as well. The soft and non-restrictive lining makes these gloves more comfortable to wear and work with. Overall, these gloves are a great option when you are looking for a pair of all-rounder dishwashing gloves.
Pros
Non-slip grip
Rubber construction
Offer high-level protection
Multiple uses
Cons
Not available in small size
6. Clean One's Vinyl Gloves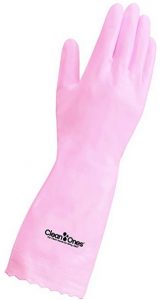 Clean Ones Vinyl Gloves are a great substitute for latex gloves. These are BPA and Phthalate free. It offers a high-level of comfort due to its ultra-plush lining, making it extremely comfortable. Also, it provides great moisture absorption than any standard flocked lining gloves. You need not worry about mess touching your hands at all.
Its extra-long length further adds to the pros of these vinyl gloves. Coming with a swirl grip pattern, these vinyl gloves work well for oily and scrappy dishes. This is a unique non-slip design that comes only in Clean One's Vinyl Gloves.
Due to 22mil material, Clean One's Vinyl Gloves are 35% thicker than any average dishwashing gloves available in the market. This further adds to the protection they offer from hot water, harsh chemicals, and skin irritant detergents.
One thing you need to note about these vinyl gloves is that these come with a higher price attached. This might stop you from buying these gloves, but if you are allergic to latex, these vinyl gloves make a great option. Once you enjoy the comfort and protection they offer, you won't regret investing in these vinyl gloves.
Pros
Moisture absorbent
Extra-long cuffs
35% thicker than standard gloves
Added protection
Dangers of Not Wearing Gloves
An often asked question is: what happens when you do not wear dishwashing gloves?
Well, dishwashing gloves come with a lot of benefits, and avoiding the use of dishwashing gloves can result in quite some dangers. Therefore, it is better to use protection gloves as a precautionary measure.
Following are some dangers of not using any gloves:
1. Hot water can dry out or even damage your skin
While exceptionally hot water can burn your skin, a little milder is still able to damage your skin.
Hot water is great for cleaning dishes. Your dishes will be cleaner quickly and with less effort. At the same time, it is not possible to use hot water for dishwashing with bare hands. For that, you definitely need to use some gloves in order to protect your hands from burning.
Even if the water is not unbearably hot, it is still bad for your skin. After washing dishes with hot water, you might have observed dry and rough skin. For some people, hot water is as bad as resulting in red patches and bruised the skin. This is because hot water is not good for the natural oil in your skin.
Thus, using dishwashing gloves is important to keep your hands safe.
2. Dishwashing detergent can cause chemical burns
When your skin comes in direct contact with solvents, chemicals, ammonia, vinegar, or bleach present in dishwashing liquids, it causes chemical burns. They work like that of hot water while removing grime. Your natural oil barrier is damaged.
Therefore, gloves are a great solution to protect your hands from chemical burns, which can be very painful and take time to cure later on.
3. You can get sick really quick
If you observe getting sick more frequently than you used to, one significant reason can be your dishwashing liquid. This is because the sponge you use for dishwashing has millions of bacteria residing over it. To save yourself from such germ-ridden items and sickness, dishwashing gloves are the safest option.
4. Nail protection
If you keep your fingernails in water for a period of time it can become soft. You should look at this that way – even just five minutes of washing dishes can make your nails weaker. Soaps or other chemicals doesn't help either. Using gloves will prevent that softness to appear and causing tearing a nail. It's very actual for ladies who have painted nails.
Washing Process
Like all the other household products, you need to wash your dishwashing gloves as well to keep them free of bacteria and germs. The recommended washing process to follow is:
Step 1. Wash with simple detergent.
Firstly, wash your gloves with a simple detergent in hot water and leave them for drying.
Step 2. Soak in a mixture of hot water and cleaning agent.
Next, soak your dried gloves in a mixture of hot water and cleaning agent for five to ten minutes. Hang them to dry.
Step 3. Use an anti-bacterial wipe.
When dried, clean the gloves using an anti-bacterial wipe to ensure your gloves are bacteria-free.
Step 4. Treat your gloves with baking soda.
This step is significant for people who are very cautious regarding clean products. Sprinkling a little amount of baking soda gives off a fresh smell. Also, it makes the gloves softer and durable.
Step 5. Check for any holes.
See if there are any visible holes in the gloves, especially if you regularly work with harsh cleaners.
With these 5 simple steps, you can clean your gloves really well. Do not forget to keep them away from direct sunlight and heat.
Conclusion
Over time, dishwashing gloves have become a necessity. For people who do not think that wearing gloves for hand protection is essential, they need to know the dangers of damaging your hand skin and later discomfort it causes.
When looking for the best pick, you are free to rely on any of the top 6 dishwashing gloves mentioned above. However, make sure you keep your skin type into consideration!