Buy small office clips. Fix 1 clip on 1 glove from the inside. Gloves near at hand, do not stick together and quickly dry.
In an arsenal, by all means have rubber gloves for dishwashing and other house works. Here only quality of all gloves miscellaneous. There is it that after the first use they stick together, and it is not possible to put on their second time. It, generally concerns powder-free from within gloves.
Also, important task for me is storage of gloves: that they did not disturb in a workplace and dried out from within, especially if there a small amount of water got.
How do I solve the problem?
First of all, I buy in office shop clips for paper color which can be used under color of gloves. Cost of clips low, working capacity not less than 10 years.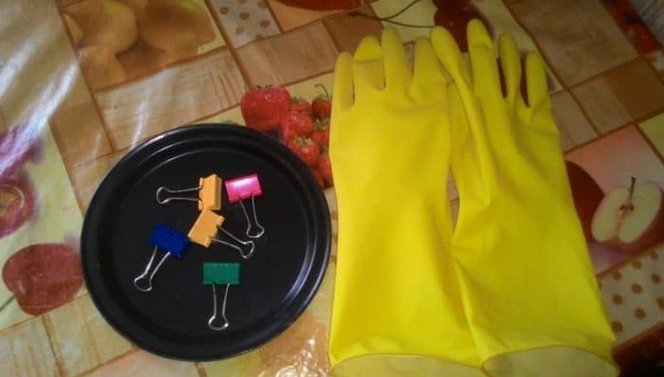 I put on a clip to the glove on the one hand after completion of my dishwork.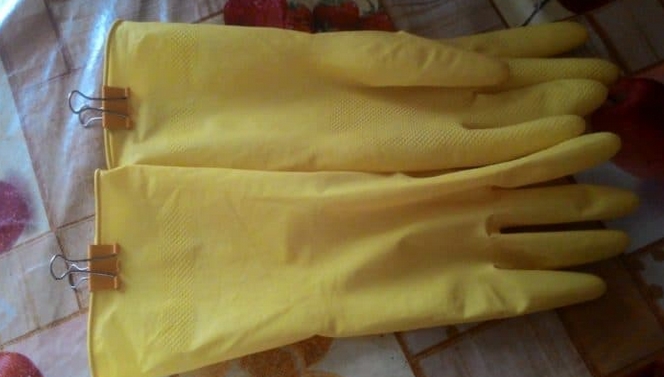 What turns out as a result
In my kitchen about a sink there are hooks and a compact towel hanger, an apron and other objects which are always necessary to me near at hand. I hang up gloves on the very brink of a hanger, is closer to a sink.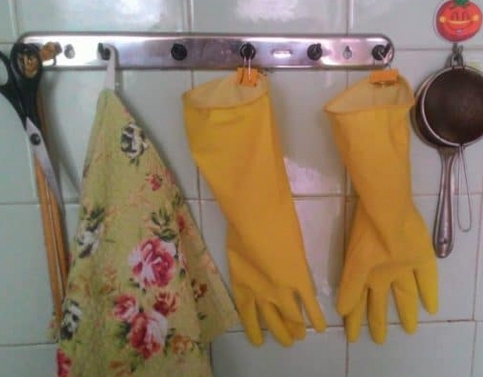 I am happy with the result
Gloves are always dry.
Do not stick together inside.
Allows to do other kitchen works without obstruction.
Here in such easy and budgetary way I store gloves for economic jobs in the kitchen space. Dear housewives, try, maybe you will like it in such way.