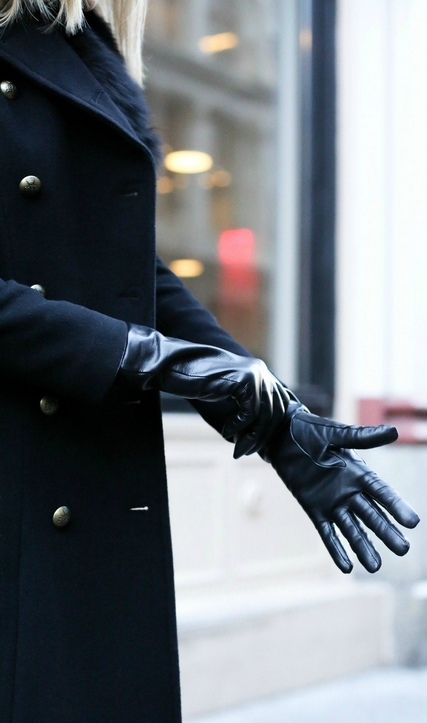 With the first swing of cold wind, everyone starts looking into their closets to find gloves that would keep their hands warm. Leather gloves are an essential part of every fashion line for centuries. From old French to modern American, leather gloves have been used for different reasons. In older times, these were worn as signs of royalty and high society, whereas now, women wear leather gloves to keep their hands warm yet functional throughout winters.
With the evolution of fashion and appearance of modern times, leather gloves are more functional and practical today than they ever were. Coming in different types of leather, they serve different functions and offer a variety of use. However, not many women consider something else than material and color before buying leather gloves. Know that each leather glove in the market has its own specs and features.
This guide helps you learn about types of leather, some important factors, price range, and tips as well as reviews top 10 best leather gloves out there.
Leather Types

Different types of leather offer different main characteristics. Some are soft and luxurious, while others are more durable. The most common types of leather include:
1. Cowhide
Cowhide is known to be the thickest leather; thus, are warmest leather gloves.
2. Deerskin
Deerskin appears to be rough and rugged but is very hard-wearing and durable.
3. Goatskin
Even though it is cheaper than other leathers, goatskin is very durable and strong.
4. Lambskin
Lambskin is the thinnest leather and so, is the top choice of many fashion brands. Also, it is quite soft yet strong.
5. Sheepskin
Sheepskin varies in quality, but a high-quality sheepskin is durable yet easy to break-in.
What to look for in Leather Gloves?
While you are choosing leather gloves for yourself or a loved one, there are some important factors to consider, such as:
Size
To get a good fitting, you need to know your size before buying leather gloves. A leather glove that does not has a good fit is not practical at all. So, the common size range is:
Extra Small (XS): 6"
Small (S): 6.5"
Medium (M): 7"
Medium Large (ML): 7.5"
Large (L): 8"
Extra Large (XL): 8.5"
Length
Length also matters a lot. Some women prefer wrist-length gloves, while others like to wear long gloves. Length category includes:
Wrist: These are usually the most popular choice and covers up to the wrist. There might be some options that cover an inch of the wrist as well.
Gauntlet: These gloves come with loose cuffs that can be folded. These are known as medium length gloves as these are longer than wrist gloves but do not reach half of the forearm either.
Half-way up forearm: Longer-length gloves that cover till half-way up your forearm are also very admirable. These look great when you dress up for a formal winter event.
Touchscreen
Most leather gloves come with conductive fiber in fingers that allow you to use your touchscreen devices such as smartphones and tablets etc. If you are buying leather gloves for daily use, the touchscreen makes an important feature to have included.
Types of Cuffs
Leather gloves come with different types of cuffs. The most common ones are:
Open cuff
Elastic
Buttoned
Strap fit
Ribbed-knit
All of these offer a unique wearing experience. It is important to choose the one that is most comfortable for you.
Materials
While some leather gloves are made of pure leather, others come with mixed material. Some gloves come lined with fabric or wool to make them more functional.
Another such thing is a mixed grain, which means a specific type of leather used on a particular part of gloves while another type on other parts. For instance, suede leather gloves with smooth leather on the palms are very common.
Before you buy leather gloves, make sure you give built materials a look.
Color

Gone is the time when leather gloves were only available in a few specific colors, such as black and some shades of brown. Today, leather gloves come in almost every color from black to scarlet, yellow, and whatnot. You can easily find a particular color in leather gloves you are looking for.
Price range
Leather gloves fall in the different price categories. Several factors determine the price of leather gloves, such as material, lining, length, size, etc. Mostly, leather gloves fall in price range Inexpensive to average to expensive.
Inexpensive
With low-quality wool or synthetic lining, these leather gloves cost between $24 and $35.
Average
If you want a wide range of colors, supple material, and good quality lining, average leather gloves cost between $35 and $65.
Expensive
Leather gloves from top designer brands are often quite expensive. However, these offer softest high-quality leather, topnotch lining, and all the modern features such as a touchscreen, easy driving, etc. These usually cost from $65 to $200 and more.
Tips to Consider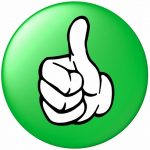 Following are some tips to keep in mind when buying or using leather gloves:
Leather takes time to conform to your hand, and so, a little fitting is not going to hurt.
As you wear your gloves, bacteria might accumulate in them. It is important to air them out.
Use a damp cloth to wipe your gloves occasionally. The paper towel does no good.
Drying your gloves in the clothes dryer or overheat makes the leather crack.
Always air dry your leather gloves to ensure durability.
Leather discolors when you put it in frequent contact with wet surfaces.
Top 10 Women's Leather Gloves
Here are the top 10 women leather gloves listed for you, along with their honest reviews.

1. Alepo Genuine Sheepskin Leather Gloves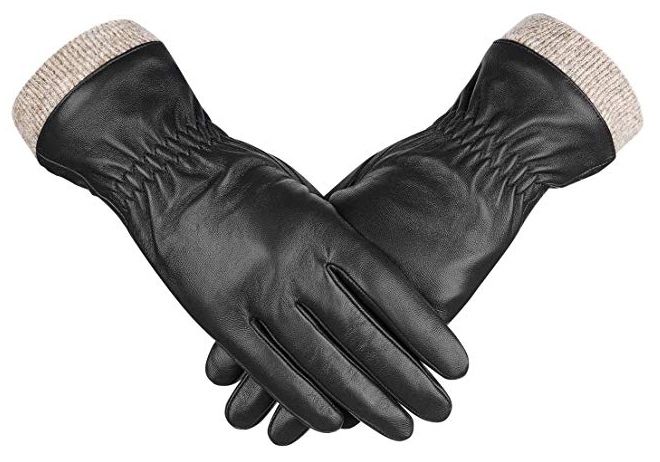 Made of sheepskin, these leather gloves by Alepo are known to be of high quality. Softness and suppleness are key characteristics of these gloves. Italian cashmere lining further adds to the strength and comfort. Coming in five different colors, you can choose the one that coordinates well with most of your chic winter outfits.
Moreover, these come with the most important modern spec i.e., touchscreen. You are free to use your fingers on any of your touchscreen devices.
These gloves make a great addition to each of your winter days. Whether you want to rest at home, go out for a walk, go to walk, or school, these gloves look amazing. The wool screw at the end of cuffs further adds to the style and classy look of Alepo leather gloves for women.
Also, these are available in all standard US sizes from S to XL and make a great winter choice.
Key features
These gloves are made of sheepskin leather.
These come with Italian cashmere lining.
You can use your touchscreen devices comfortably.
These come in all sizes ranging from 6.5" to 8.5".
These are available in 5 different colors.
The wool screw over cuffs adds to the style.
Advantages
Great quality
Affordable
Comfortable
2. Alepo Winter PU Leather Gloves for Women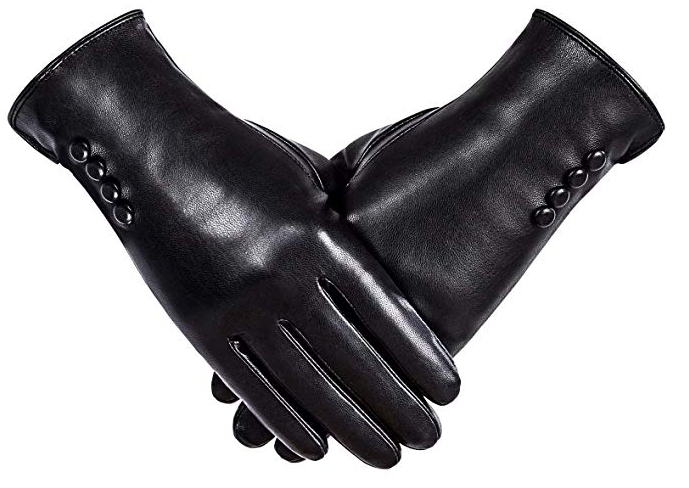 Alepo winter PU gloves are made with faux PU leather, which is a unique but pure type of leather. The Italian wool lining ensures a great fit. Although we are not sure about the internal lining, we think it is cashmere. That's how it could be so soft and smooth the way it is.
With these leather gloves on, you can easily operate any of your touchscreen devices. Also, the outer lining allows a good fit, which helps you do anything you want while wearing these gloves. Be it driving, biking, gym, work, or hiking; you will not feel even a bit uncomfortable.
Moreover, these gloves offer a very elegant appearance. Four buttons styled on the side of each glove adds a classy look. This makes these gloves good to wear outside the home as well. Being inexpensive, these leather gloves are worth consideration.
Key features
These are made of faux PU leather
These come with full Italian wool lining
These offers 360-degree touchscreen functions
These come in 5 different colors
These fall in the inexpensive price range
Advantages
Good quality leather
Internal fabric is very soft
Allows touchscreen
Inexpensive
3. Dsane Women's Winter Leather Gloves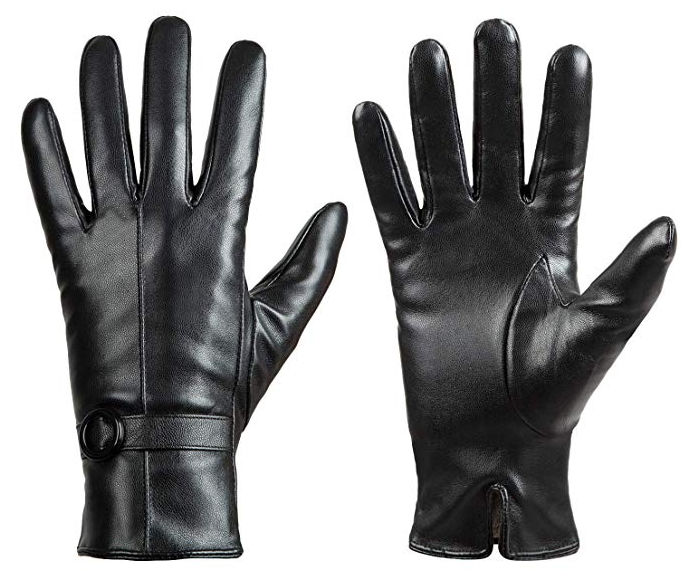 Dsane is known to make impressive accessories for women, and its leather gloves are one of them. With top quality leather, these gloves are going to keep your hands soft and warm all season long. Coming built with 100% pure lambskin leather, these gloves are thin and offer a great fit.
The lining is of wool polyester with simple buckle design on the wrist. With open cuffs, you can simply fold them down or leave it just like that. These high-quality, luxury leather gloves come with cashmere lining inside to offer a touch of smoothness and added comfort.
Moreover, these come built with intelligent touch technology to allow touchscreen operations while wearing gloves. With great design and low price, you will be happy spending on these Dsane lambskin leather gloves.
Key features
100% pure lambskin leather.
The outer lining is woolen polyester.
The inner lining is of Italian cashmere.
Come with touchscreen technology.
These are very inexpensive.
Advantages
Soft internal lining
Touchscreen technology
Inexpensive price
Good quality
4. FEIQIAOSH Super-soft Leather Winter Gloves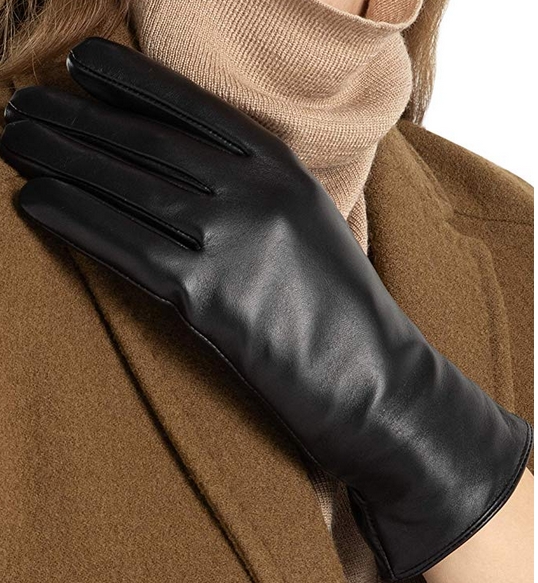 If you have been looking for sheepskin leather gloves, FEIQIAOSH has to offer topnotch leather gloves for women. Featuring soft-leather manufacturing and simplistic look, these gloves are your must-have for winter seasons. Lined with cashmere, these gloves provide a soft and warm feel to your hands.
The best thing about these gloves is that these can be worn in autumn as well. This is because sheepskin is not extremely warm as that of other types of leather. Therefore if you want gloves for driving or biking in winter/autumn, these make the best option.
The touchscreen technology allows you to use all your touchscreen devices with great ease. This feature appears as a necessity nowadays, and with these super-soft leather winter gloves, you will feel extremely comfortable.
Moreover, these come in 11 different colors to choose from. Overall, these are good winter gloves, falling in an inexpensive price range!
Key features
These are made with sheepskin leather
These leather gloves are lined with cashmere
These can be used in winter and autumn
These are available in 11 different colors
These allow touchscreen operation
Advantages
Variety of colors
Use in both winters and autumn
5. Dsane Winter Genuine Leather Gloves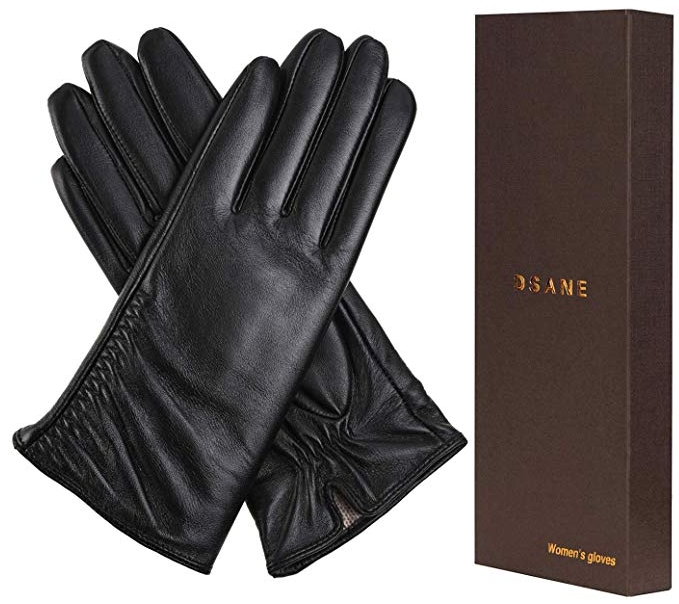 Here we have another leather gloves coming from Dsane. Made of 100% lambskin, these leather gloves are going to make you feel super cozy and comfortable. With pure cashmere lining, these gloves feel equally soft and supple inside as well. It would not be wrong to say that Dsane knows well how to deliver quality with comfort!
On the outside, these gloves feature wool polyester lining to offer a great fit. This shows high-quality workmanship and long-lasting use of these leather gloves. Being affordable, these gloves are going to be your winter partner for many coming seasons.
The unique thing about these gloves is the wrist design that features a strong windproof effect. So when chilly winds are on the rise, these leather gloves are the perfect solution.
Moreover, these gloves feature intelligent touch technology to allow the use of your touchscreen devices. Coming in different sizes (6.5 to 8.5 inches) but only black color, you can choose these gloves for everyday wear.
Key features
These are made of lambskin leather
These come with pure cashmere lining
The outer lining is wool polyester
Feature strong windproof effect
Available in sizes from 6.5 to 8.5."
Advantages
These are best everyday wear leather gloves
The windproof effect is a great addition
6. Pratt and Hart Women's Classic Leather Gloves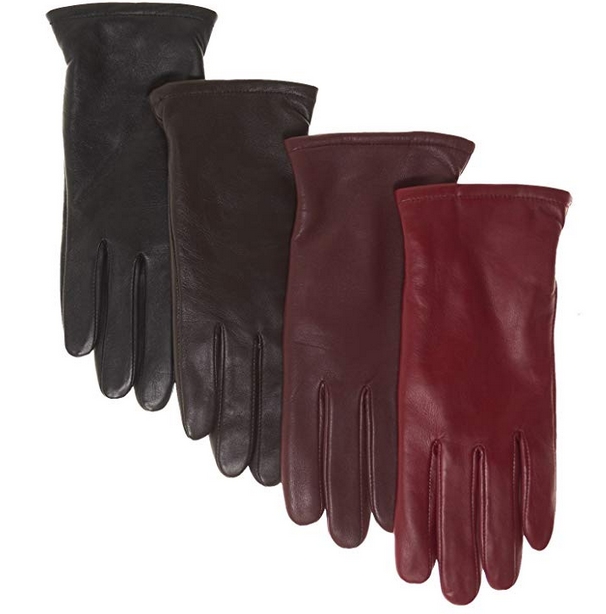 Pratt and Hart are known for their great designs and top quality when it comes to leather gloves. However, the one we are going to review here features a simple design and minimal look. This makes these gloves ideal for everyday casual wear as well as for events.
Made of super-soft sheepskin leather, these classic leather gloves make a great winter choice. The genuine thinsulate lining further adds to the durability and strength of these leather gloves. With palm-side elastic snugger, wearing on and off these leather gloves is extremely comfortable. These gloves go a bit farther than your wrist. As these extend 1.5 to 2 inches beyond your wrist, you can call these gloves gauntlets.
Moreover, these are available in three to four different colors to choose from, making them ideal to buy for occasions. Falling in average price range, these are great quality leather gloves to get. However, you might not be able to use your touchscreen devices while wearing these gloves.
Key features
Made of soft sheepskin leather
Feature easy elastic wear
Thinsulate lining
These extend 1.5 to 2 inches beyond your wrist
Advantages
Available in different colors
High-quality leather
Gauntlet style gloves
7. Livativ Luxury Soft Women Leather Gloves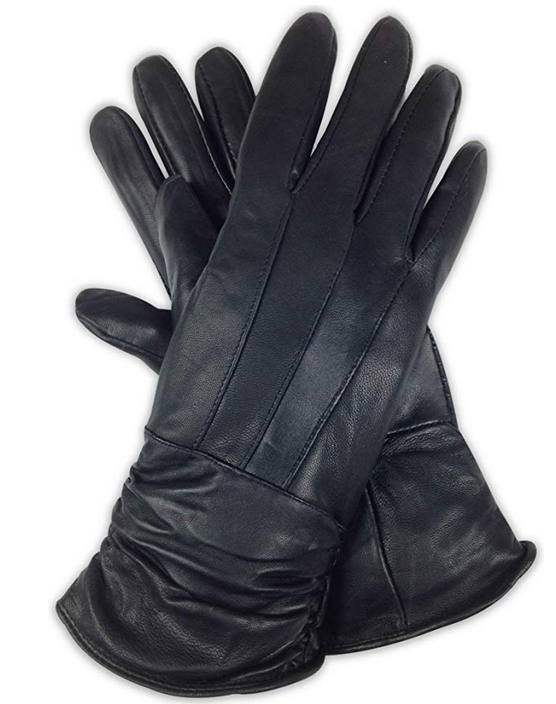 These luxury soft women leather gloves come manufactured with pure nappa leather, another type of unique and premium leather. With great design and super stitching, these leather gloves are known for their ultra-soft feel.
The 3M insulate lining is added quality warmth, almost double the warmth that any other lining material has to offer. This way, you can enjoy luxurious winters and do all your chores easily. Whether it is cooking, driving, or typing, these Livativ leather gloves come with no restraint. The credit goes to the thin material that offers complete freedom of movement to your fingers.
With stretch cuff style, you can easily put these gloves on and off. These leather gloves are more comfortable to wear than all the others you had. Coming in five different sizes – S, M, L, XL, XXL – you can go for the one that fits you perfectly well.
Coming at a low price, these gloves deliver the needs of the winter season very well.
Key features
These are made of pure nappa leather
3M thinsulate lining adds double warmth
Stretch cuff style makes these gloves comfortable
These gloves come in 5 different sizes
Inexpensive to buy
Advantages
Added warmth due to 3M thinsulate lining
Easy stretch style cuffs
8. Elma Women Classic Leather Gloves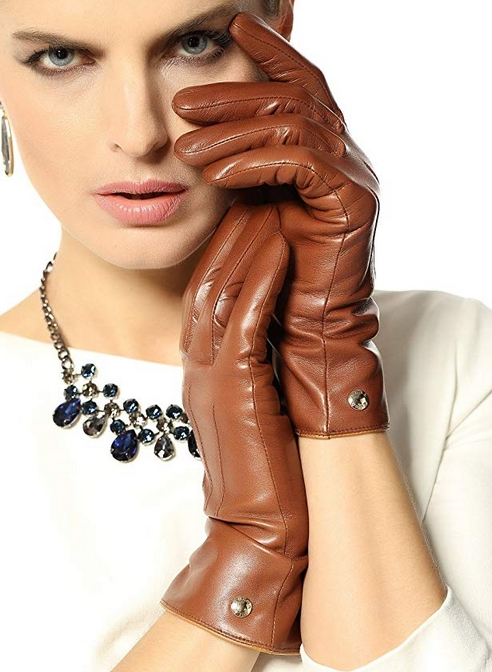 Elma has a good name when it comes to classic leather gloves. For years, it has been giving off high quality, unique, and warm leather gloves. Made of soft hair sheep leather, the name itself suggests how good they are going to conform to your hands.
With pure cashmere lining, these gloves are quite soft and comfortable to use. Also, these offer a sleek design that looks very minimal and elegant.
Another great thing about these gloves is that they come in unique colors that you might not find elsewhere, such as Navy, Burgundy, and Saddle Yellow, etc. So if you have been finding a different color in leather gloves, Elma has some to offer.
Moreover, classic leather gloves also offer touch control and great precision, so you are free to use your devices with these gloves on. These come in different standard sizes and all at affordable prices. When you are looking for quality leather gloves, give these ones a good consideration.
Key features
These are made of super soft hair sheep leather
Come with pure cashmere lining
Available in unique colors
Offer precision in touch operations
Very affordable
Advantages
Variety of unique colors
The softness of leather and lining
9. Warmen Traditional Women Winter Gloves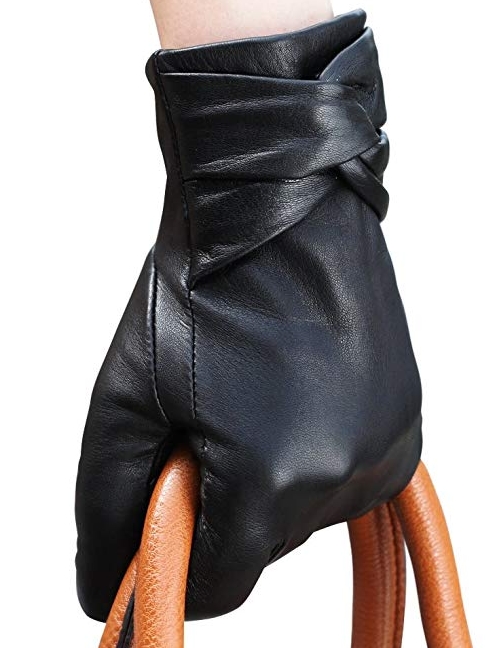 If you have been looking for some stylish and classy winter gloves, Warmen knows how to deliver traditional winter needs. Coming with a unique design, these leather gloves are a great option if you spend most of your time outdoors. You are going to be that sassy lady in the crowd while wearing these leather gloves.
Made of lambskin leather, these gloves are thin and comfortable. This allows ease of wear, as well as convenient working, be it driving, riding, or gym. With wool and polyester blend lining, these leather gloves are going to feel super soft and cozy. These are also available in cashmere and polyester blend lining. Also, you can choose between black and brown color.
Coming in different sizes from 6.5 to 8.5 inches, the prices vary accordingly. However, each falls in an inexpensive price range.
Key features
Made of lambskin leather
Blend lining (wool and polyester/cashmere and polsyter)
 Available in 5 different sizes
The material is really thin and comfortable
Advantages
Super quality material
Variety of linings to choose from
10. Warmen Women Winter Warm Nappa Leather Gloves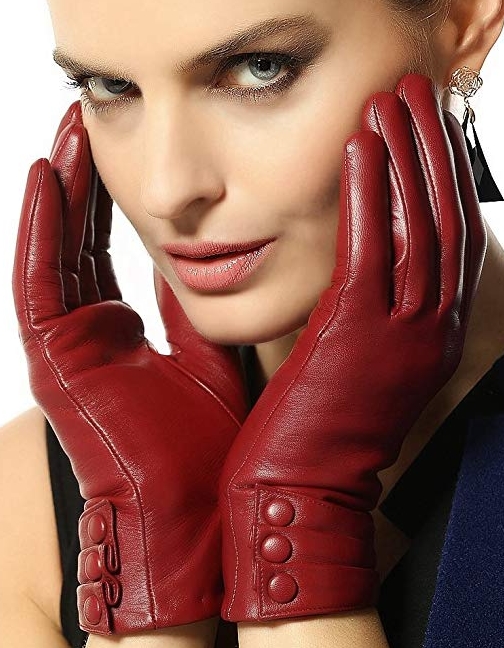 Here's another product from Warmer with different specs and unique features. Manufactured with pure lambskin leather, you cannot go wrong with these leather gloves these winters. With buttoned cuff design, these gloves are not only stylish but exceptionally elegant.
However, you need to be very careful when choosing these gloves. These nappa leather gloves come in two different linings, including cashmere and fleece lining. Cashmere lined gloves come in a variety of colors while fleece-lined gloves only come in black and brown color.
Other than that, these Warmen gloves offer touchscreen functions as well. While wearing these gloves, you can easily use your touchscreen devices. These gloves come with high precision touch point control to add more practicality and functionality.
Keep in mind that touchscreen function is only available for cashmere lining and not fleece lining. Also, these come in only two sizes – 7 and 7.5 inches.
Overall, these are quite elegant and luxurious leather gloves to buy. Falling in the inexpensive price range, you need not spend a lot of dollars over these gloves.
Key features
Made with pure lambskin leather
Cashmere lining or fleece lining
Cashmere lined gloves offer a variety of colors and touchscreen function
These are highly affordable
Advantages
Optional lining to choose from
Affordable price
Takeaway
With the winter season in its full swing, make sure you get yourself a pair of leather gloves. This saves you from deadly chilly winds and extreme cold. Also, it allows you to do your daily chores as well as use touchscreen devices. Choosing any one of the leather mentioned above gloves is going to deliver your needs and requirements really well.
Happy and warm winter season!