Looking for gloves that offer enough heat to allow you to work and play outdoors? The battery heated gloves might be the potential solution to your need for these winters. With such gloves, you can keep your hands warm while playing and working outdoors as well as indoors. They have also come as a great choice for people suffering from extreme medical conditions such as joint pain, bad blood circulation, etc.
Whether you want to go skiing, snowboarding, hunting, or biking in the chilly winds and snowy weather, rechargeable battery heated gloves are the only solution.
However, while you choose gloves for yourself, you need to keep a few important things in mind, such as:
Your requirements;
Battery life and size;
Heat control mechanism;
Glove type.
The first thing you need to keep in mind is what exactly you need. This defines all the other features you should look for, such as fabric, construction, and battery life, etc.
However, heated glove offers high versatility; otherwise, and with the heat control mechanism, you can switch between heating modes as desired.
Top 5 Rechargeable Battery Heated Gloves
Here are the top 5 heated gloves with rechargeable battery we found out there:

Savior Electric Heated Gloves for Men and Women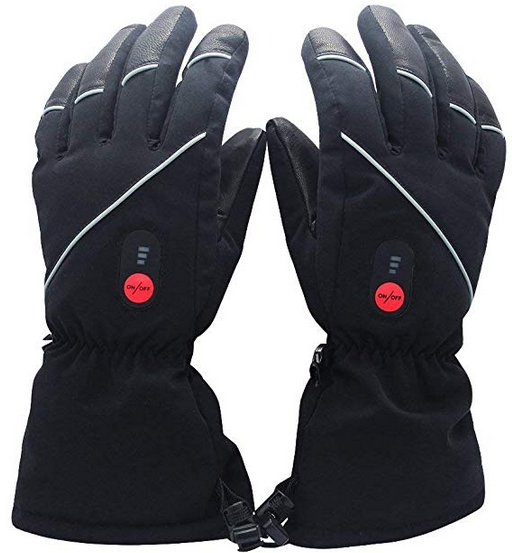 Savior Electric Heated Gloves feature the true potential to keep your hands warm in coldest of temperature as low as -25 degrees. Coming with a 7.2V rechargeable battery, these are the topnotch battery heated gloves and make our first product choice on the list.
Features
Savior gloves are built with waterproof material, so your battery heated gloves keep functioning even in moist or rainy weather during winters. The outer material is made of up leather and polyester with velvet lining. This makes the gloves quite strong and resistant.
On the inside, it has moisture-wicking fabric that keeps your hands warm and dry. This outer and inner fabric protects your hands from extreme cold. Moreover, the palm of these gloves features anti-slip material to help you grab things easily. The fingers include microfibers to offer great comfort and a sense of touch.
Savior gloves exclusively offer 3 heat settings. With a single touch of a button, you can change the heat level according to your environment. No matter the heat level, the battery is strongly capable of keeping your hands warm for 6 long hours. This makes these gloves the ultimate solution for keeping hands warm outdoors in winters.
A unique thing about these gloves is that these include a heated element in highly sensitive areas to colds such as fingertips, joints, and wrists. This makes these gloves the best option for long commutes, skydiving, skiing, and other such athletic activities.
Overall, Savior electric heated gloves are very suitable for both men and women. The unisex design allows anyone to use these gloves and keep hands warm.
Pros
3-level heating system
Waterproof outer fabric
6 hours of battery life
Long-lasting
Cons
Size might be bigger for women
Velazzio Thermo1 Battery Heated Gloves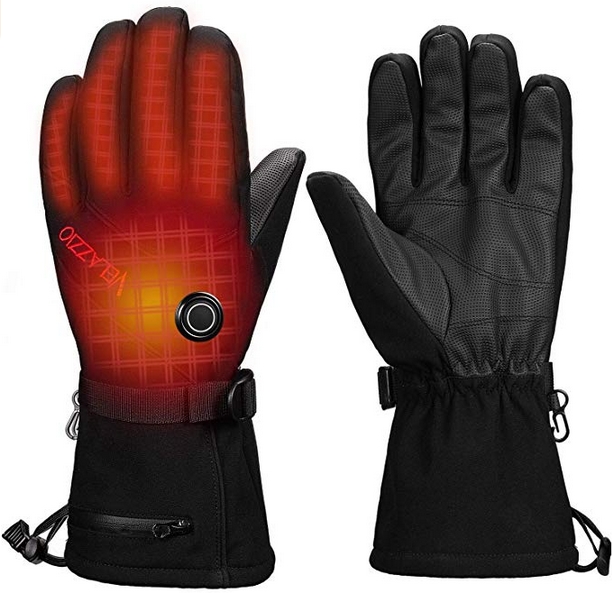 Velazzio Thermo1 battery heated gloves are the next super warm electric gloves on our list. Looking into its unique features, these gloves are specially built for athletes who love sporting even in the harsh cold.
Features
Velazzio Thermo1 gloves feature large capacity 7.4V rechargeable battery to offer warm for longer hours in colder temperatures. These gloves are capable of providing immediate warmth even in temperature as low as -25 degrees.
When it comes to the material, the outer material comes built with a water repellent shell, which is highly durable and waterproof. On the inner side, it has a fleece lining and Fan-Tex membrane to keep you as warm as possible.
The palm and fingers of the gloves include a built-in carbon fiber heating panel for supreme heat insulation. It ensures that the gloves retain maximum heat. Moreover, the 3M Thinsulate insulation further makes these gloves super warm as well as offers lighter weight and dexterity.
What we like the most about Velazzio Thermo1 gloves are its intelligent controls, which comes with 3 level heating. All regards to its intelligent features, the smart, innovative power-saving design first pre-heat the gloves at full heat for 5 minutes and automatically switch to medium heating level. However, if you do not find a medium heating level enough, you can switch back to high, pressing a single button.
Another unique feature is the touchscreen compatibility featured in its fingertips that allow you to operate your touchscreen devices. Also, it comes with adjustable wrist straps to tighten the grip and extended cuffs to keep your wrists super warm too.
All of these features make Velazzio Thermo1 gloves great for athletes as well as for people who suffer from poor blood circulation in winters, arthritis, or stiff joints.
Pros
3-level heating system
Intelligent power-saving design
Touch compatibility
Adjustable and extended wrist design
Cons
Snow Deer Rechargeable Battery Heated Mittens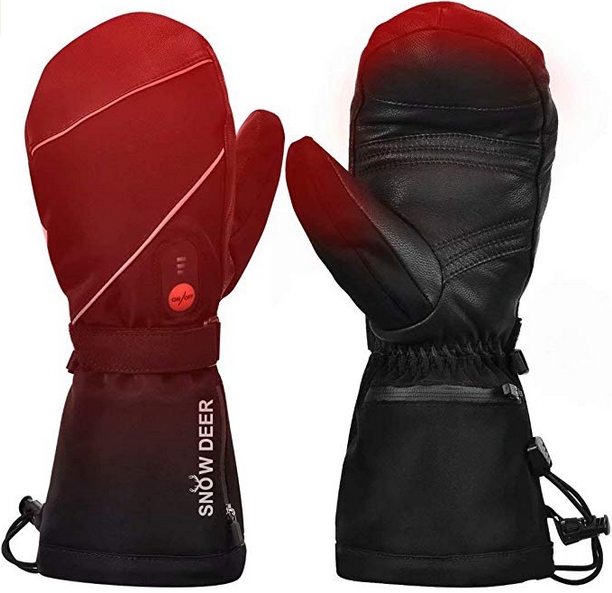 Snow Deer Rechargeable Battery gloves are the ultimate choice if you want pure leather battery heated gloves for extremely cold temperatures.
Features
Made of sheep leather, Snow Deer battery gloves feature supreme durability and heating performance. The battery, along with naturally heating leather material, is a great combination of extreme temperatures in winters.
The leather material incorporates infrared fiber heating elements to keep your blood circulation stimulated. It is a superb choice for people who suffer from joint problems such as arthritis.
Moreover, the outer material also comes with water-resistant polyester covering to protect you from moisture and water. On the inner side, the gloves feature insulated cotton and heating elements. The fleece lining allows breathable comfort. Other than these, the gloves offer anti-slip and quick-drying features to keep your hands usable and comfortable.
The wrists come with Velcro design to make them adjustable as per your wrist's size. Also, it keeps your wrist protected from cold.
Coming with a 7.4V 2200mAh Lithium-ion battery, it functions optimally for 2.5 hours and can go well for up to 6 hours. The battery takes 3 to 4 hours for a complete charge.
When it comes to the LED heat controller, Snow Deer battery gloves offer a 3-level heat setting to adjust the temperature as per your needs. The Red LED stands for high temperature (140 to 150 F), White LED for medium (122 to 131 F), and Blue LED for low heat (100 to 113 F). You can switch from low to medium or high as per the temperature around you and the severity of your body conditions.
Overall, Snow Deer battery gloves feature innovative heating technology, which makes these gloves unique and in-demand.
Pros
Made of sheep leather
LED heat controller
Features infrared fiber heating elements
Cons
Romeifly Electric Heated Gloves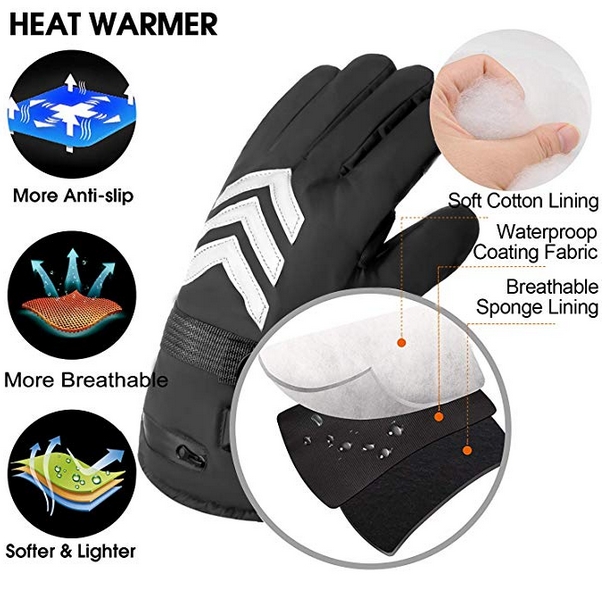 Romeifly Electric Heated gloves are the most inexpensive option on the list and are suitable for both men and women to resist cold temperatures.
Features
Coming at an affordable price, Romeifly gloves feature 2 rechargeable 3200mAh Lithium-ion batteries that function well for up to 5 hours on average. The exact running time depends on the heating mode, however. It keeps your hands warm when working, driving, or sporting outdoors in extreme cold.
These gloves came constructed with cotton and reinforced PU leather that together serves as a strong waterproof coating. With its touchscreen compatibility, you can easily use your touchscreen devices without the need to remove your gloves.
Like Snow Deer rechargeable Battery Gloves, Romeifly also offers LED Temperature control. With a single button, you can switch from one heating mode to another with great ease. It adds to the comfort and usability of these gloves. Here's how it works:
Red LED indicates high heat (140 to 150F) and works for 2 to 2.5 hours.
White LED indicates medium heat (122 to 131F) and works for 3 to 4 hours.
Blue LED indicates low heat (110 to 113F) and goes well for 4 to 5 hours.
Keeping this in view, you can use and charge the battery accordingly. However, when you first use, make sure you have charged Romeifly battery heated gloves for full 10 hours. As you put on these gloves, keep them at high heat for 10 to 15 minutes and then switch to another, if required. This helps in optimal functioning.
Overall, these gloves make a great choice for relief from cold during outdoor activities as well as severe medical conditions such as Raynaud, Arthritis, and Diabetic neuropathy.
Pros
Led temperature control
Reinforced PU leather construction
Inexpensive
Comes in 3 different sizes
Cons
Battery time could be better
Wildyak Heated Gloves for Men and Women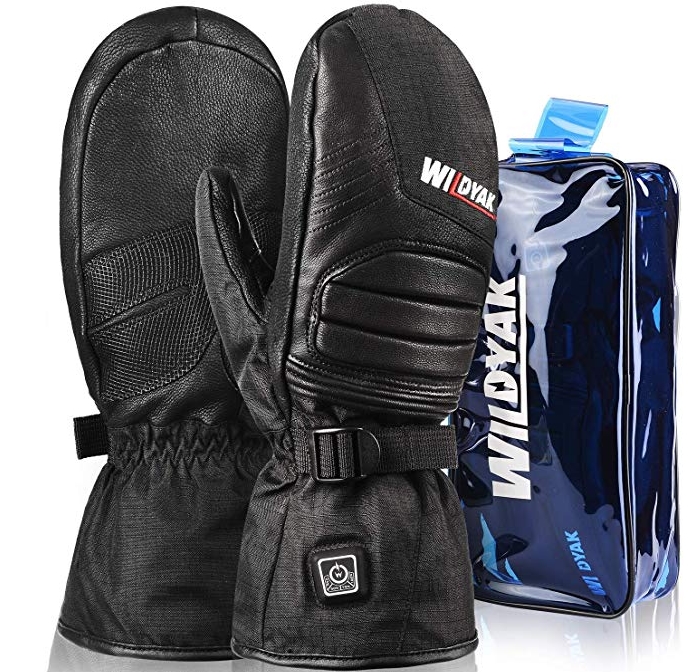 Wildyak Heated Gloves feature a unisex design, which makes these equally good for men and women. Coming in different sizes, you can choose the one that fits you best.
Features
Made of high-quality, imported, water-proof leather and windproof polyester, these gloves are strongly resistant towards cold. The inner material is breathable soft polyester that keeps your hand naturally warm. In addition to that, Wildyak has added upgraded heating elements – the popular and effective infrared fiber – in these gloves that cover the entire back, fingers, and fingertips protected from cold.
The wrist buckle is also adjustable to fit the size of your wrist and keep cold winds away. Due to its strong built and high-quality materials, these gloves are designed to keep you warm in extremely cold weather.
When it comes to the battery, Wildyak heated gloves feature 7.4V 2200mAh Lithium-ion battery that functions greatly at high temperature for 2 to 3 hours. If kept at medium or low heat, the battery works well for up to 6 hours.
Including a touch sensor, you can operate all your smart devices easily. It increases the use-ability and functionality of these gloves.
The unique thing about these gloves is the battery power display. Using the Upgrade button, you can know how much battery is left and estimate how long the gloves are going to work. The battery power shows four different battery levels – 100%, 75%, 50%, and 25%. As it reaches 25%, the orange battery LED indicator turns red and starts flashing. We didn't see this exclusive feature in any of the four battery mentioned above heated gloves.
Overall, Wildyak battery heated gloves come with a higher price tag attached but deliver superb performance and usability.
Pros
3-level heating system
Infrared fibers
Battery power display
Different sizes available
Cons
Conclusion
With rechargeable battery heated gloves, there's no need to suffer through cold winters. Hands and feet are those parts of the human body that take longer to get warm than usual. Over the years, people have been looking for a reliable solution to solve cold weather problems and keep hands warm. Luckily, we have pretty good battery technologies now-days that even battery powered cars are getting popular and it's the near future! So why not use this technology in more fields and one of them is to keep our hands warm.
As reviewed above, many heated gloves share common features such as 3-level heating mechanisms, water-proof materials, and touch screen capability. However, fabric, battery type, heating elements, and size differ with each glove.
Keeping in view your requirements, you can choose the best gloves for yourself. With these gloves, you can resist cold these winters and ever.
So, no more staying indoors during winters due to snow and chilly winds out there!