To understand an essence of "glove etiquette", I suggest you to make small digression to history. It will allow you to learn slightly more about this elegant detail of female clothes and about those beautiful traditions which remained far back in the past when there were real knights and beautiful ladyloves.
The first similarity of gloves was revealed at excavation of an ancient tomb of the Pharaoh Tutankhamun in Egypt. Greeks, unlike the arrogant Egyptians considering gloves an indicator of the highest status put on gloves only when work was coming. The same who put on gloves in other cases were considered as mollycoddles. And here Romans by means of gloves protected hands from hot food, cold and dirt.
Especially popular gloves became in the Middle Ages. Kings preferred to wear the gloves decorated with gemstones and gold. And ordinary citizens embroidered them an embroidery and bugles not to lag behind monarchs. Only having put on gloves, judges could get to work in those days. If to the knight threw down the gauntlet, it meant insult. But if the ladylove of the knight gave it the glove – it meant favor from its party.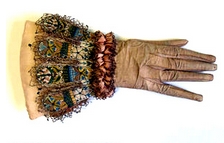 As not everyone could sew correctly a glove, in the XII century the profession of "glover" appeared. This profession was considered as honorable: glovers were able to sew gloves ideally on a hand (not without reason there was an expression "to sit as a glove") and skillfully decorated them. As a result, gloves became luxury goods. The 16th century was marked by new rules of etiquette of putting on of men's gloves: men were not allowed to be in gloves in the presence of the king, in church, on a festival, at a funeral, at exchange of handshakes. These rules did not concern women, and the scented gloves were considered as special chic.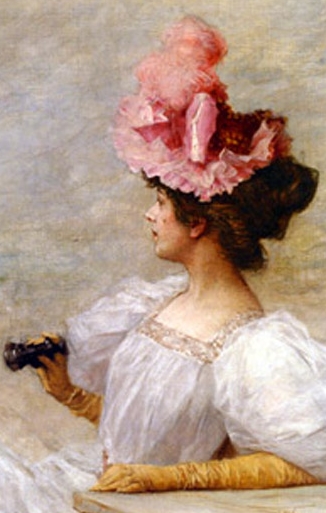 Since the beginning of the XVII and until the end of the XVIII century France and its masters were in the lead in the market of gloves. And only during Napoleon's era the French slightly opened a veil of secrets of their production to the rest of Europe.
At that time also, the fashion for women's gloves which are one of the most elegant details of female clothes to this day arose. At the beginning of the 19th century in England there was the whole "glove etiquette" for "the ideal gentleman", rules were so numerous. According to them, it was necessary to change gloves six times a day! What led to expression emergence "to change something as gloves". Men, greeting, had to take off the right glove. White gloves could be put on only a ball and in theater, and yellow – hunting. The man offering to the lady a hand without glove vowed it eternal fidelity.
The brittle female palm was fashionable at that time therefore ladies sought to buy gloves couple sizes smaller and "to contain" in them a hand.
The modern lifestyle brought big changes in fashion and in etiquette, nevertheless, nobody cancelled the rule of good form.
How it is correct to pick up gloves and in what situations they can be taken off and in what is not present?
What should each modern lady know:
In general, gloves can never be worn on the street, but indoors, except for theater, a formal reception and a ball. Gloves should be taken off before meal even if it only a canape during cocktail. The lady never has to remove gloves for handshake (if it is not economic gloves or knitted mittens). Moreover, she should not apologize for it.
Leather gloves – a thing classical and suitable practically to any autumn and winter clothes. It is possible to carry them with a coat and even just as addition to a suit. On color leather gloves have to be combined by your clothes, but can be contrast and be combined with a bag and shoes. If your coat with a fashionable sleeve 3/4 in this season, then bright gloves can play a role of "the first violin" in your dress. You should not put on gloves with a fur edge if on you a fur coat or a coat with the sleeves edged by fur.
Women's gloves sew from soft, sheep or goat leather. By the way, from goat leather the strongest gloves turn out. Sheep leather – very beautiful and smooth – nevertheless, warms much worse and demands a good lining. The graceful thin laika fitting a hand it is similar to a second skin, more it is good for fall. In the winter usually wear the gloves warmed from within by fur or a knitted lining.
What it is necessary to pay attention before choosing gloves:
To define gloves are made of genuine leather or artificial it is the plainest, having taken it in hand and having a little taken. If leather heats up, then it – real. Besides on a surface of natural leather gloves there is a hardly noticeable hairiness, and the solid manufacturer will never allow the admission of stitches or different frequency between them. It will always have ideally equal lines, accurate. To determine leather by a smell it is useless – artificial can be not less "fragrant", than real.
The good glove should not leave marks from paint.
The most expensive and qualitative gloves – handmade gloves. A seam on them not inside, and outside therefore it is easy to repair them. On a lining, on the contrary, a seam – secret (it becomes in order that gloves did not rub a hand).
Anyway, choose the gloves which are ideal for the general suit and having the correct length. Gloves they define mood of a suit, place in it final accents.
Buy gloves without any jewelry, placing always emphasis on quality, the color and stylistic scheme.
For an evening dress select long gloves only from expensively lace, silk with elastin. Do not buy a glove from cheap guipure or synthetics – such accessories are associated with heroines of adult films.

How to pick the right gloves correctly
Unbend glove cuffs, then carefully tightening, put on it. Now cuffs it is possible to unwrap and straighten a glove. You should not correct a glove between fingers – you risk to tear it. To take off a glove carefully pull for an edge of each finger, and then take off a glove, holding all fingers (except big) – at the same time.
In conclusion I will tell that gloves – rather expensive accessory demanding classical style, exclusive quality and faultless purity. Correctly picked up gloves can add refinement to your image, but if you made the wrong choice, then completely you will destroy it.
They say that there is a sign: if the woman lost a glove, good luck returns it to that place where it left it. Therefore, there are a lot of gloves – many reasons for meetings and the new relations.

Good luck to you and executions of all desires, and the lost glove let will be the biggest loss in your life!