The soccer subdued millions of people worldwide. A fascinating game causes a storm of emotions, splash in adrenaline. Who has an opportunity gather in the yard to play some soccer? For a comfortable game it is necessary not only to buy sports shoes and sneakers, but also the goalkeeper's gloves. Where and how to get them, it is cheap not to undermine the budget, it is necessary to understand.
Functionality of an accessory
Gloves for the goalkeeper carry out several tasks at once:
protect a hand from dislocation;
will amortize blow of the ball;
provide grip with the ball.
Each of the models presented at the market has the advantages and shortcomings, carrying out one task perfectly, but conceding to other models on the second. The accessory is more expensive, the more moments are provided to protect the goalkeeper from a trauma.
Anatomy of the glove
Irrespective of the price, all gloves have the similar construction. Their difference consists in the applied materials and thickness of a covering.
From the back of a palm the covering helping to take out the ball from a zone, to beat off it or to be protected is put. It consists of polyurethane foam, in expensive models in addition becomes covered with latex.
Internal part, palmar, is intended to catch the ball. The surface is covered with the punched or smooth layer. The first option serves longer, is not erased, but extent of gripping with the ball is low. In official matches use gloves with a smooth layer. To it the ball therefore it is more convenient to work sticks. But the covering quickly wears out therefore such gloves need often to be changed. At a training session use gloves with a relief surface.
Fingers can be rigid or average degree of protection. Success of the attack therefore it is important to keep their mobility depends on capture of the ball. At the same time, the speed of flight of the ball can exceed 120 km/h, at its parrying it is necessary to protect fingers from dislocation and a fracture. For this purpose, there are goalkeeper gloves with protection. It can be fixed or be established if necessary, in addition. It is the framework for fingers helping to avoid a considerable trauma at contact with the ball.
To record a glove, fastening is necessary. It can also be several types: combination of a hook and loop, V-shaped or bandage. The first look by means of a thong regulates length. The second look provides from the inside additional ventilation. The third turns around a palm, reliably fixing the long end by means of a velcro.
How many there are goalkeeper gloves, depends on type of a cut, a layer of protection, material of which the external and inside layer, its qualities is made. The important value plays also the brand making a product. The known brands provide the high quality supported by the documents and certificates.
To buy goalkeeper gloves, it is not obligatory to bypass sports shops in search of the necessary model. It is possible to order them in online store. It is convenient, especially, if the person knows that he wants to receive. A lot of online sport stores offers professional accessories, meant for protection, equipment for sports activities, outdoor games.
What each goalkeeper should know about gloves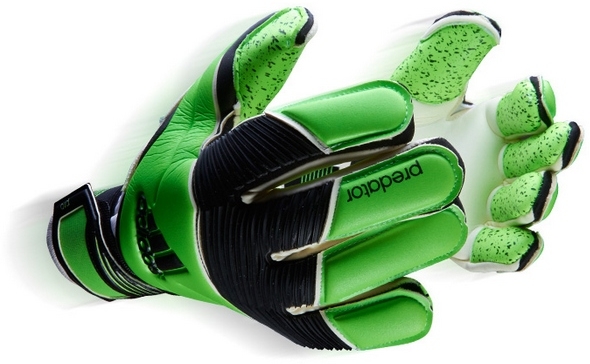 It if is about professional soccer of high level where goalkeepers are able to afford to dress new couple on each official match. But before buying goalkeeper gloves at first it is necessary to learn to choose the size. This subject of goalkeeper equipment, as well as footwear, has the dimensional grid. The easiest way – to measure length of a middle finger. What its length in centimeters, such at you and the size. It is possible to check it, having measured palm width. As a rule, these figures have to coincide. However, there are exceptions, people are individual.
Whether it is necessary to buy the size in the size or to take those which will be a little more – a question debatable. It is convenient to someone if goalkeeper gloves freely keep on a hand, but it is harder to hold the ball after blow in them. In turn, if they in covering, then it is additional load of seams. It is worth trying on several couples, to take in them the ball and most to estimate comfort level.
Gloves for goalkeepers differ among themselves in a cut. And goalkeepers choose the style suitable for itself. For example, cover Surround Cut – it is a minimum of seams and for those who have a wide palm. And Precurved in the form that reminds the bent palm ready to catch the ball. Negative Cut style with an internal seam is popular with goalkeepers of Bundesliga, and Gunn Cut without inserts protecting fingers, guards have a nuclear submarine collar. Tailoring of Flat Palm is distinguished by a direct palm from an integral piece of latex with wedges for protection against stretching.
Paradox, but amateur gloves are more durable than professional. It is explained by the used materials: latex, polyurethane, synthetic and mesh inserts, plastic protection. At "skin" on palms a century short. After the first contact with the ball latex begins to be stratified. And it is unimportant, it is expensive professional model (which has "foam" not only on an internal part of a palm, but also on external) or budgetary, such property at latex. Therefore, professional keepers use pair of gloves on several matches then they from game pass into the category of training.
It is possible to prolong latex service life, moistening it each 20-30 minutes. The goalkeeper who did not take care of taking with himself in the field a small bottle with water is forced to spit for palms during the match. At the expense of skin water becomes steadier against wear and stickier. To keep latex, accustom yourself to stand up after falling, leaning not on the opened palm, and on a fist. After the games or trainings wash out the gloves water with soap since the first enemy of latex – small sand from a lawn which affects "skin" as an abrasive. Slightly wring out gloves without unscrewing and dry up, but not under direct sunshine.
We suggest people to pay attention to main things and if you willing to spend a little bit more to buy or order Select gloves. The Danish company specializes in production not only high-quality balls, but also equipment for goalkeepers. Ideal landing to a hand, a layer of a latex covering provides mobility of fingers and the best feeling at capture of the ball.